The Strat Pack
Strategy and simulation gaming and adjacent interests
FIFA 22 Career Mode: TSP United – making history
Last time out in my FIFA 22 Career Mode series I was lucky to hold on to my job as TSP United manager after a disappointing 2026/27 season. Would I be able to handle the mounting pressure in England's top flight with the board's expectations ever increasing? Perhaps this photo might give you a clue…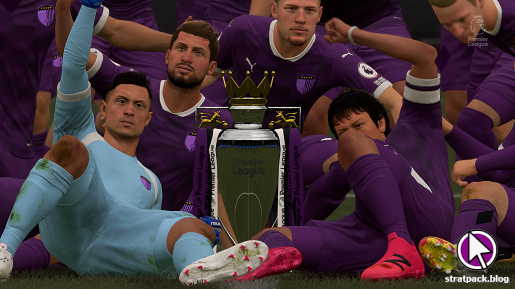 As a reminder, I'm playing this Career Mode campaign with special custom rules for some added challenge. I'm not to spend a penny on players (signing free agents is fine) and the focus is on scouting and developing youth players. So my main source of new talent through this whole thing is to send a scout out around England occasionally and see what he brings back.
Note that this is the fourth instalment of my TSP United Career Mode series. Click here to catch up on the first six seasons:
• FIFA 22 Career Mode: TSP United – escaping the lower leagues
• FIFA 22 Career Mode: TSP United – hitting the big time
• FIFA 22 Career Mode: TSP United – cup runs to remember
2027/28 - Premier League
Despite a rough last season, I didn't opt to make any signings heading into 2027/28, instead making some rearrangements as young players returned from loan. Notably, Gale took the spot between the sticks, relegating the inconsistent Parkin to the bench. Departures included former regular striker Prince, one of the few remaining original TSP United players.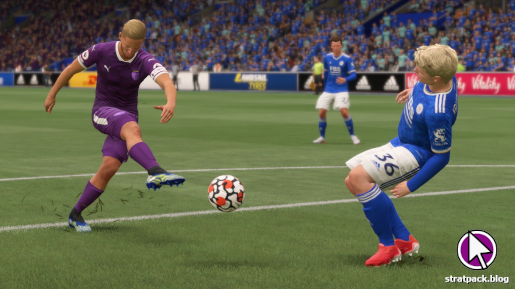 We were off the mark quickly and went on a frankly insane run of form considering our recent struggles, ending up top after ten games, having won 25 of the 30 available points. Gale was making saves well beyond his ability on paper, and by December I was wondering whether we might be on course to do a Leicester (who ironically were our closest title rivals).
We stumbled slightly over the Christmas period, lacking the squad depth to handle two games a week, but stayed on Leicester's tail. As Chelsea took the top spot we were scraping victories, often coming back from steep deficits to win. But our form prevailed, and with five games left we inched ahead of the Blues. The fate of the league season was in our hands.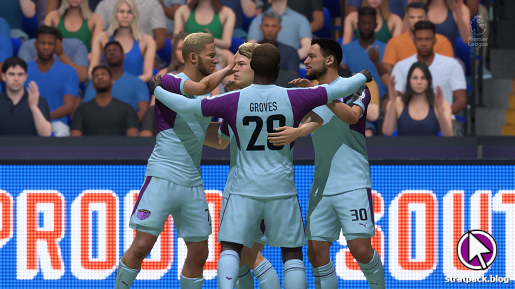 After we beat Arsenal and Newcastle emphatically, Chelsea lost to City, putting us four points ahead. We had a chance to win the league in our penultimate game of the season at the Etihad, and didn't let it go to waste. Pierre and Vaughan both netted braces, and the scoring was capped off by Goddard as we thrashed Pep Guardiola's team and were crowned Premier League champions at the end of a truly improbable season.
• Best player - Annumanian, who broke Vaughan's scoring record
• Best signing - N/A, because we made no signings
• Best youth breakthrough - Gale, who became the new first-choice GK
2028/29 - Premier League
With a league title under our belts, my sights were firmly set on a grand European finale to this Career Mode campaign. With most of our players improving, there was no need for huge squad changes, but I did bring Hunter into the first team at LM, moving the declining legend Willis to the bench.
We beat Man United in the Community Shield and made a strong start in the league despite losing Vaughan to a three-month injury. Our Champions League campaign was less smooth. We drew a tricky group, which featured both Inter and Bayern, and a defeat to the latter in the final group stage match saw us tumble out into the Europa League. The dream was over.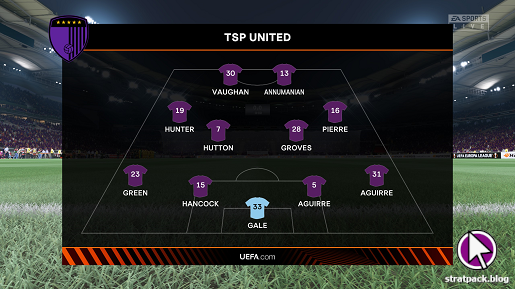 Unexpectedly, the Premier League became something of a saunter and we retained our title with a couple of games to go. Meanwhile, our Europa League run saw us face off with Manchester United, Villareal, and AC Milan, setting up a final date with a Liverpool team we'd smashed 4-0 just days before with a second-string lineup, on the final day of the league season.
The first team made no mistake on the big occasion. TSP United applied the early pressure before Pierre headed in a Hunter corner in the fifth minute. A fantastic Alisson performance kept Liverpool in the game, but goals from Annumanian and Vaughan meant we were four goals clear by half time.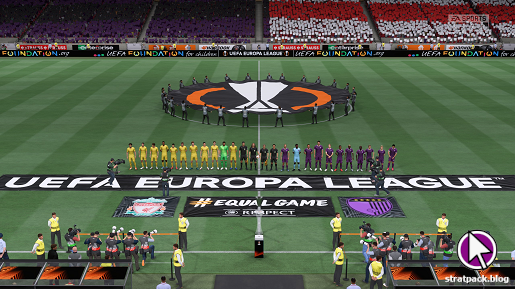 Pierre got a fifth early in the second half, and when Neto was shown a red card we controlled the rest of the game. Proceedings were capped off by Willis, a late substitute, who grabbed the sixth and final goal in stoppage time with perhaps his last kick of a ball for TSP United. Maybe our Champions Leauge bid fell short, but we were European champions nonetheless.
• Best player - Annumanian, pushing the limits yet again
• Best signing - N/A, because we made no signings
• Best youth breakthrough - Hancock, straight in at CB on his loan return
Got something to say? Join the conversation
© 2018-22 The Strat Pack
Personal blog - does not reflect views of employers past or present