The Strat Pack
Strategy and simulation gaming and adjacent interests
FIFA 22 Career Mode: TSP United – cup runs to remember
The years are flying by in my FIFA 22 Career Mode series, and after surviving our first season in the top flight, the fans are now expecting TSP United to push on and improve their standing amongst England's best clubs in 2025.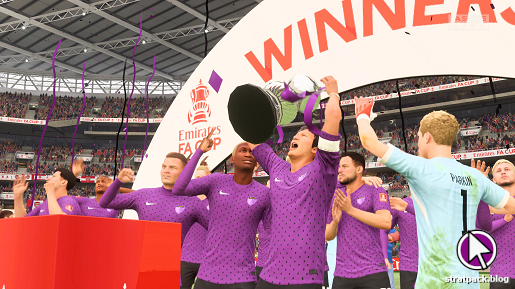 As a reminder, I'm playing this Career Mode campaign with special custom rules for some added challenge. I'm not to spend a penny on players (signing free agents is fine) and the focus is on scouting and developing youth players. So my main source of new talent through this whole thing is to send a scout out around England occasionally and see what he brings back.
Note that this is the third instalment of my TSP United Career Mode series. Click here to catch up on the first four seasons:
• FIFA 22 Career Mode: TSP United – escaping the lower leagues
• FIFA 22 Career Mode: TSP United – hitting the big time
2025/26 - Premier League
With a top-flight season under our belts, it was time to cement our place in the Premier League, and that meant strengthening in some key areas. Free agent centre backs Adhoum and Alba came in to provide some depth, Anami was retrained to join them in defence, and I signed a clubless left midfielder named Albanese now that Annumanian was playing up front.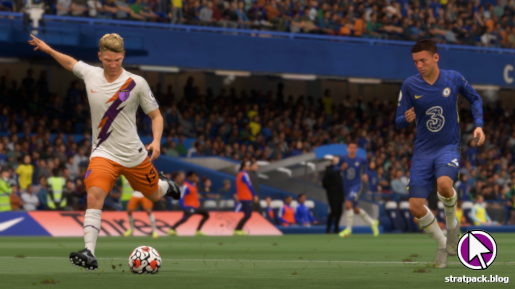 We had a slow start, but some good form towards the end of 2025 meant we crept into the top half at the start of the new year. The goal of the season undoubtedly came from club legend Willis against Liverpool, cutting in from the wing and rounding Allison to give TSP United an early lead at Anfield.
Then the issues started. Annumanian suffered an injury around the 25-game mark (luckily, he'd return in scoring form before May) and Aguerre's poor form gave me no choice but to give the youngster Parkin more chances in goal. In better news, academy product Hunter was steadily developing as a right-wing understudy to Pierre, and Green stepped in at left back to replace a declining Marcos Alonso, who would retire at the end of the season.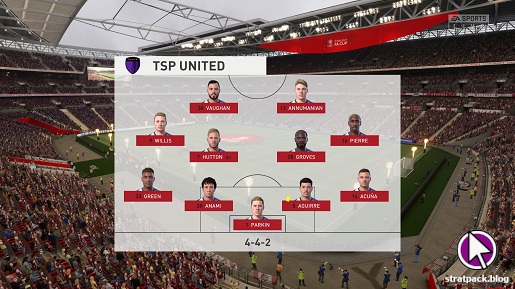 While the league campaign ended in mid-table mediocrity, our FA Cup run culminated in a dramatic triumph against Arsenal at Wembley. After going 2-0 down in the early stages, we dragged ourselves back to 2-2, before going in 3-2 down at the break. Arsenal had a man sent off in the second half, and a late equaliser from Pierre took the game to extra time, where Annumanian wrote himself into the TSP United history books with the winning goal.
• Best original player - Willis/Hutton, the two survivors from League 2
• Best signing - Alba, providing much-needed depth at CB
• Best youth breakthrough - Green, earning his first-team spot
2026/27 - Premier League
With our FA Cup victory came a Europa League spot, and with the hectic schedule that European football brings incoming, we once again needed to strengthen the squad. Club legend Johnson left, opting for a move elsewhere due to a lack of playing time. The pickings were slim, but we signed another free agent named Aguirre - this time at right back - and sent the scouts back out to England and Scotland to top up the academy.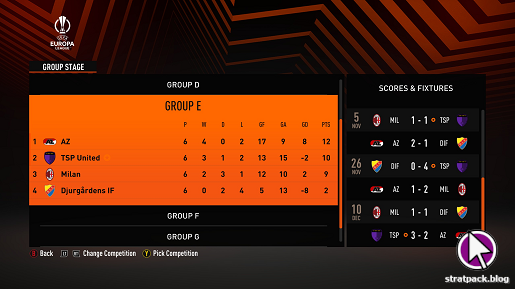 Our efforts were rewarded with what I consider to be an impressive first run in the Europa League. With games coming fast, our youngsters took to the pitch, with striker Goddard the standout, scoring a hat trick as we beat group leaders AZ 3-2 in the final game to secure our progression. After destroying Young Boys in the first knockout round, we didn't have enough to beat Atalanta in the Round of 16 and tumbled out of the competition.
The board were expecting us to qualify for the Europa League via the league this year, but our mixed fortunes early on gave way to the most dire run of form of my managerial career so far. In the end we finished tenth, well short of the board's expectations, largely due to poor performances from Parkin and his defence. Vaughan broke the Premier League season scoring record, which should give you an idea of what a disaster it was at the back.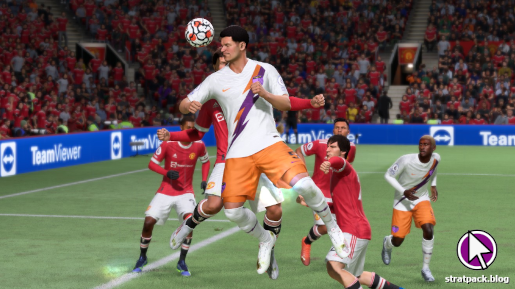 With nothing to write home about from the domestic cup runs and the league season ending in disappointment, the highlight of 2026/27 was without doubt our first European campaign - not only because of how far we progressed, but because it was mainly down to our next generation of players. The future of TSP United looks bright, but having missed out on most of my objectives I can only hope I'm around long enough to see it.
• Best original player - Willis, still going strong at LM after six years
• Best signing - Aguirre, who made some exciting runs from RB
• Best youth breakthrough - Goddard, back with 18 goals in 31 apps
How much longer will I surive as TSP United manager? To read the next article in my TSP United Career Mode series, click here:
• FIFA 22 Career Mode: TSP United – making history
Got something to say? Join the conversation
© 2018-22 The Strat Pack
Personal blog - does not reflect views of employers past or present