The Strat Pack
Strategy and simulation gaming and adjacent interests
FIFA 22 Career Mode: TSP United – escaping the lower leagues
I hadn't bought a FIFA game in years, but I couldn't resist picking up FIFA 22 when I learnt that EA has finally given us the tools to emulate the classic Master League experience, creating a brand new club and taking them from football's bottom rung to continental glory. I've always enjoyed reading about people's Career Mode journeys, so I thought I'd share how it's going.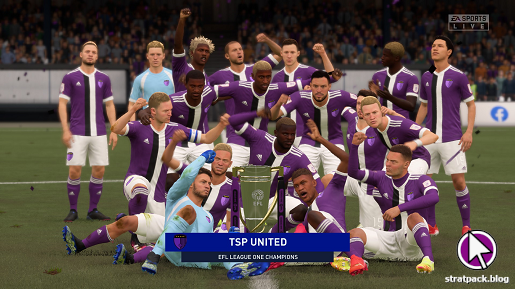 The setup
I usually burn out on FIFA Career Mode quite quickly. When you start a game with a big team like Chelsea, a few tactical additions to your squad are all you need to win it all, and from there it's just a matter of bringing through young players to sustain the success and build your legacy. So this time around, I was determined to do something different.
This time I created my own club, TSP United - complete with a snazzy purple kit - and dumped them in League Two. When you create a club in Career Mode you begin with a randomly generated squad of unskilled players with which to ascend the ladder, and to make things even more challenging I decided that I would not spend a penny in transfer fees. Instead, my focus would be on bringing through youth players, with the odd free signing.
2021/22 - League Two
It took some time to settle in before my first season gained momentum. I had a shaky start as I learnt the game and worried that I'd made things too difficult for myself, but eventually I found some rhythm and form, and by the end of the season TSP United won the league with a couple of games to go.
Other highlights included an extended League Cup run that saw us reach the quarter finals, earning scrappy wins against Premier League heavyweights Wolves and Newcastle before taking a battering against Manchester United.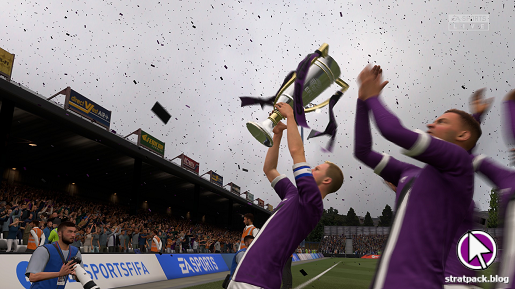 This season was also all about learning my squad. Prince and Johnson established themselves as the first-choice strike partnership, with the former earning the League Two golden boot by the end of the year. I also started to put the feelers out for youth talent, with Greenwood, a young left-back, making the most first-team appearances. The foundations were laid.
• Best original player - Prince, the goal machine
• Best signing - N/A (no signings made)
• Best youth breakthrough - Greenwood, our cup left-back
2022/23 - League One
By the start of the second season, my best players were just about pushing the 70 Overall mark. I also made efforts to bolster the squad by signing free agents Acuna (RB) and Pierre (RW). The latter would prove invaluable, with more than 10 goals and 15 assists coming in from the right wing.
After another slow start, we went on an immense run of mid-season form and won the league with six games left to play, with Prince rising to the challenge and continuing his scoring habit. Injuries to regulars Thornton and Prior meant that newly promoted youth prospects Green and Groves could enjoy extended runs in the first team to boost their development.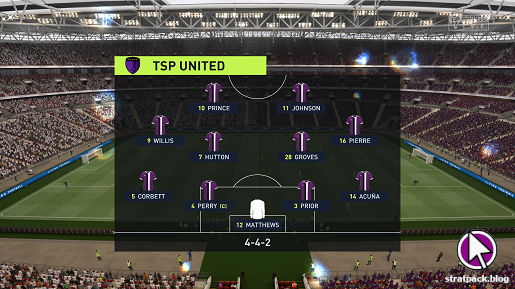 Alongside all of this, TSP United also managed to win the Papa John's Trophy in the most dramatic fashion possible. The highlight of the campaign was a thrilling 7-6 semi-final victory over Mansfield Town, before we went to Wembley to take on Port Vale. The final was best described as a demolition, with young Groves playing to the occasion and scoring a hat trick.
• Best original player - Prince, topping the league scorers chart again
• Best signing - Pierre, both scorer and creator
• Best youth breakthrough - Groves, the centre midfield maestro
Looking forward
I've reached the point where I'm comfortable with the game and comfortable with my squad, who seem much more capable and cohesive than they were two seasons ago. But at the same time I know there will be a point (maybe next season in the Championship?) where the opposition becomes too strong for my squad's technical ability and things get a lot tougher.
But we're on the right track, and hopefully we'll be hitting the Premier League before too long. Until then, it's a race against time for my young players - I hope they'll be able to develop quickly enough to handle the big stage.
Want to see what happens next on our march towards the Premier League? To read the next article in my TSP United Career Mode series, click here:
• FIFA 22 Career Mode: TSP United – hitting the big time
Got something to say? Join the conversation
© 2018-22 The Strat Pack
Personal blog - does not reflect views of employers past or present