The Strat Pack
Strategy and simulation gaming and adjacent interests
F1 22's announcement video was a colossal waste of time
Racing game fans across Reddit and Twitter were excited this week after EA revealed that not only did they have the Imola Grand Prix to look forward to this weekend, but on Thursday they would also get a glimpse of the latest game in the Codemasters F1 series: the hotly anticipated F1 22.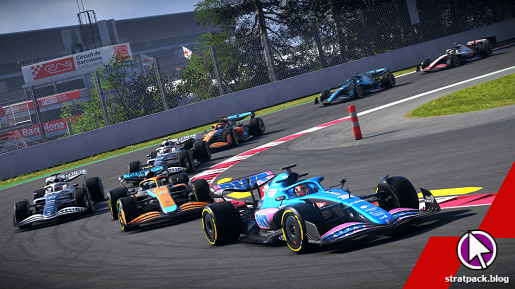 Unfortunately, the reveal turned out to be peak 2022 gaming and social media. After a day of countdowns, the official YouTube channel premiered an announcement video that was just 30 seconds long, showed no gameplay, and contained only the following bland marketing phrases:
• The future is here
• Next generation machines
• Racing redefined
• Rivalries renewed
• Enter the new era
We got a release date for the new game - 1st July 2022 - but the whole exercise was largely pointless. A tweet would have more than sufficed. The reaction was a mixture of disappointment, bemusement, and apprehension about what the lack of substance meant for the finished product.
Beyond the video
While the video was bereft of detail, we did get a little more information - and a few pretty screenshots - on the newly launched F1 22 website, so I thought I'd dive in and try to decipher what I could from the sales copy.
New season, new rules: Take your seat for a new season as redesigned cars and overhauled rules redefine race day with the authentic 2022 lineup.
This means basically nothing. The latest iteration in an annual sports game series will include the latest cars and driver lineup? Colour me surprised.
Race day, redefined: Take control of your virtual F1® experience with immersive and broadcast options for Pit Stops, Formation Laps, and more.
Aside from one unnecessary comma and many unnecessary capital letters, what does this say? "Immersive" is the most abused word in gaming, but juxtaposed against "broadcast" maybe it means they've added TV-style cameras for formation laps and pit stops alongside the usual in-car angles? I wonder if the new pit stop format might take its cues from Gran Turismo 7.
Digging into the detail
But wait - there's more! Hidden near the bottom of the website there's a link to an announcement page, which again provides just the tiniest drop more detail. There's slightly more text here, so I'll just pull out the highlights.
Take your seat for the new era of F1® with the sport's stunning new cars and a new handling model that recreates the intense wheel-to-wheel racing that's had us on the edge of our seats so far in the 2022 Formula 1® season.
The handling in the previous games was passable but not amazing, so a new model is welcome as long as it's a solid improvement. That said, I'll believe it when I see it because EA also says various parts of FIFA are being overhauled every year and many of them stay largely the same.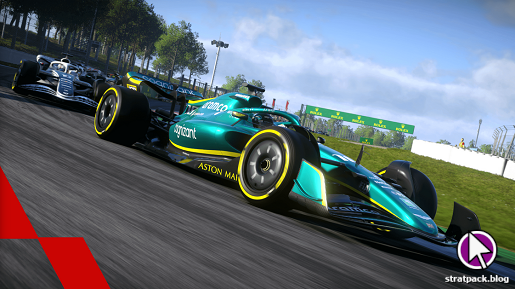 Plus, test your talent amongst the iconic Florida palm trees around the 19 challenging corners of the vibrant new Miami International Autodrome, and go flat out as F1® Sprint comes to the game for the first time in F1® 22.
So we'll also get the newest circuit on the calendar, which isn't surprising. As for the sprint races… They're an addition that few fans want in real F1, but I suppose that's not up to EA and Codemasters to decide. They could be entertaining in video game form, although I do wonder how they'll work for players who drive even the full races on shorter settings.
F1® 22 also includes VR compatibility on PC via Oculus Rift and HTC Vive to give you the ultimate immersive F1® experience.
This will be the big one for a lot of people, and I have no idea why they didn't mention it in the announcement video. Fans have been waiting for years to be able to play F1 in virtual reality, so Oculus Rift and HTC Vive support will have those with the right equipment very excited indeed.
Get a taste of the glitz and glamor of Formula 1® in F1® Life, a new space for you to unlock and show off supercars, clothing, accessories, and more for the world to see.
I don't know what F1 Life is exactly, but this description certainly makes it sound like it's going to be completely irrelevant to the core gameplay. Those "supercars, clothing, accessories, and more" sound like the perfect opportunity to slip in more microtransactions, too.
My Team and Career Mode return in F1® 22 with fresh new features, along with two-player split screen, F2™, online multiplayer and all the features you know and love.
I suppose this is good to know, but there's nothing new or unexpected here - someone was obviously trying to hit their word count. If any of this stuff was missing then there'd be a backlash.
EA has promised more detail "in the coming weeks", but that's it for now. Given the feature list above, it seems the game is veering slightly further in the casual direction with F1 Life. For those who play the games for the actual racing, there'll be a lot riding on that new handling model.
Got something to say? Join the conversation
© 2018-22 The Strat Pack
Personal blog - does not reflect views of employers past or present