The Strat Pack
Strategy and simulation gaming and adjacent interests
Asus GeForce Dual GTX 1060 O6G review and PC build project update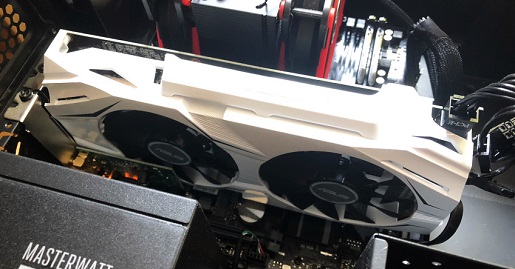 For this month's off-topic post I thought I'd give an update on my PC project and a review of my new graphics card – the Asus GeForce Dual GTX 1060 O6G – which I've now been using for about a month after splashing out last payday to complete my build… for now.
The first thing to note is that this is a pretty big card. The box was much larger than I imagined it would be based on the photos online, and as I opened it up I was a bit worried about whether the graphics card would squeeze into my MicroATX case. It turned out it did, but it's definitely what you'd call a snug fit and I'd certainly never risk buying anything bigger.
When it comes to looks and sounds, the Asus GeForce Dual GTX 1060 O6G is a nice-looking white card. This isn't something I was concerned about, but it might be a draw for those going for builds with nice aesthetics. Noise-wise, I'm yet to hear a peep from the dual fans even when the GPU is under heavy load from some of the latest games.
And what a job it does with those games. Not having bought a graphics card for a long time, I wasn't sure what to expect from an Nvidia GTX 1060, but it turns out it's plenty. I don't play the most demanding titles, but for recent games including F1 2017, Planet Coaster, and PES 2019, we're talking about comfortable performance on the highest settings at 1920 by 1080.
The graphics card's box is also plastered with claims that it is VR-ready. I'm yet to try out a virtual reality headset with my PC (although it's something I'd like to try in the future – especially if headset prices drop a bit), but since installing the Asus GeForce Dual GTX 1060 O6G my build sits comfortably beyond the Oculus Rift's recommended specifications.
All in all, I'm happy with my choice in buying this graphics card. Several blogs I read beforehand referred to it as a mid-spec GPU, and the price (somewhere around £300 at the time of writing) reflects that, but unless you're doing some major video work or Bitcoin mining I don't know why you'd need anything more. To date, the Asus GeForce Dual GTX 1060 O6G has handled every task I've thrown at it – and comfortably, at that.
As I previously wrote about my project, I've really enjoyed building my own PC and would recommend it to anybody with a personal or professional interest in computing. It's been a great learning experience and I've now got a nice setup for coding, blogging, and perhaps even settling down to play some games when I have the time.
Although I now consider the build complete, I'm sure I'll end up making some tweaks and additions as time goes on – and I'll be sure to blog about them when I do.
Got something to say? Join the conversation
© 2018-22 The Strat Pack
Personal blog - does not reflect views of employers past or present